5 Benefits of Workflow Automation for Construction Materials Testing and Inspection Services.
June 21, 2021
Before delving into the benefits of workflow automation, consider the workflow at a typical Construction Materials Testing Department in an engineering firm, as shown below.
As the whole process is kind of repetitive, automating it saves time and money. According to a McKinsey report, "The automation of activities can enable businesses to improve performance by reducing errors and improving quality and speed, and in some cases achieving outcomes that go beyond human capabilities."
When all project-related data, such as client information, work orders, fee structure, design documents, and more are stored in a single system, you don't have to sift through files, spreadsheets, work documents, or paper forms to find project-related information. Clearly, there are numerous benefits to using workflow automation software. Let us now look at the top five.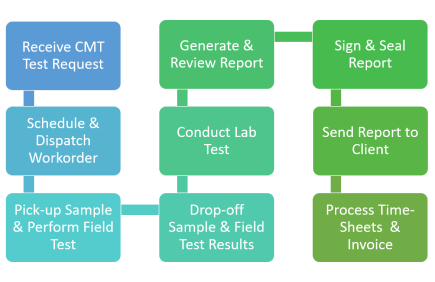 1. Reduces transcription errors and improves accuracy
Paperwork can be eliminated at several stages of an automated workflow process, from online scheduling and dispatching to digital forms for field data collection and lab data management.
Creating a work order is very easy with an automated system because the client information is automatically populated the moment you enter the client's name, and with mandatory fields, it is difficult to forget important information. Furthermore, with digital forms, data entry is simplified by predefined calculations, and data entered is automatically validated against project parameters. This improves accuracy and eliminates transcription errors.
2. Faster turnaround time
When repetitive tasks are automated, and data is entered only once, employees can get more work done in a day. For example, when a technician performs a soil density test at the field and enters the results in a digital form, the data is available instantaneously to the project team. With the field data collection software, you don't have to wait for the technicians to turn in their daily logs at the end of the day, and wait even longer for the administrative staff to transcribe the data and type out the reports.
The engineers can electronically review, sign, and seal the reports and distribute them to clients within hours of the test being completed. In fact, some systems allow you to send reports to the clients as soon as a field test or inspection is completed at the job site. This is especially useful if the clients want a retest done immediately.
Besides saving time and money, an automated workflow software also improves client satisfaction with a faster turnaround time for test results.
3. Better Collaboration
An automated workflow software integrates all the stakeholders with real time data sharing, and everyone knows the exact status of a project. Let's take a look at the soil density test example again - the moment the field technician enters the test results, the project team would have instant access to the data, and the project manager would be able to discuss the results with the design team immediately, and recommend any corrective actions if needed. And, if they have to refer to a particular design document, it would also be available in the system.
Better collaboration between project team members and clients reduces miscommunication and increases efficiency.
4. Improved accountability and transparency
Most automated workflow software can keep track of, "who, what and when" changes. From the moment a workorder is created to sample data collection to lab test and analysis, the system can keep track of every step and action, providing transparency and audit trail. Additionally, when a laboratory information system (LIMS) is integrated with the workflow system, the lab staff can track and manage samples efficiently.
Management and clients can rest certain that every CMT test and inspection complies with legal requirements, and that the reports are accurate and reflect the real findings, thanks to the increased accountability and transparency.
5. Increases productivity
Most importantly, an automated workflow system simplifies and streamlines the entire report generation process. Time is saved, and productivity rises across board for everyone:
Schedulers – It is easier to assign the right staff to the right job with the right information by providing a comprehensive picture of who is doing what job and where. There will be fewer calls from field staff seeking project-related information.
Field technicians/inspectors – With electronic forms, time-sheets, and the ability to attach site images, you can save time and reduce errors.
Lab staff – Keeping track of test specimens and managing lab data is made easier. Some systems include daily break summaries, providing a list of concrete breaks on any given day.
Engineers/Project Managers – The process of reviewing and distributing reports is streamlined, freeing up time to focus on more important engineering work and pursuing new businesses.
Administrative staff – As less time is spent transcribing and editing reports, you can get a lot more work done. Furthermore, if the automated workflow system is integrated with invoicing, the management of timesheets and invoices is simplified.
eFieldData, a cloud-based construction materials testing software for workflow automation not only gives you all the above benefits at an affordable price but it also provides your clients with a better user experience by allowing them to access current and past reports 24 hours a day, seven days a week.