Transforming Construction Materials Testing (CMT) with SaaS Solutions
March 29, 2023
Both Quality Control (QC) and Quality Assurance (QA) processes are important for Construction Materials Testing (CMT) and Inspection services. They ensure that construction projects meet the required standards and regulations such ASTM, AASHTO and state DOT standards and building codes. The traditional method used to manage QC and QA is time-consuming and prone to errors. Moving to a cloud-based automated workflow solution will help address these issues by streamlining processes, increasing efficiency and improving accuracy of reports.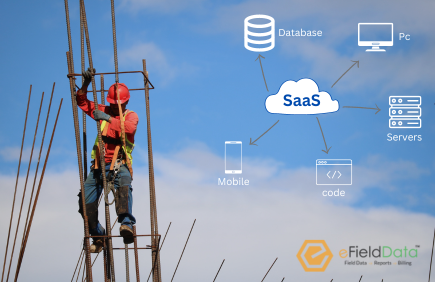 A cloud-based automated workflow software for CMT helps streamline the process by automating repetitive day-to-day tasks like scheduling, dispatching, field and lab data entries, reporting and invoicing. This leads to cost savings in terms of time and efficiency. Also, an automated workflow solution ensures that tasks are performed consistently.
In the field as well as the laboratory, getting rid of paper forms and spreadsheets not only creates an audit trail, but it also reduces the number of transcription errors and eliminates the need for duplicate data entry. It would be easier to keep track of and manage all the tasks with a cloud-based automated workflow system that is straightforward and intuitive to use. In addition, the procedures for operating and reporting can be standardized to increase the productivity of the staff.
Another major advantage of a cloud-based automated workflow software for CMT and inspection is team collaboration. As all the data is available in one place (cloud) in the system, project managers and engineers would have immediate access to test results and project status. They would be able to communicate in real-time with field staff to give specific instructions. This helps with QC as they would be able to identify potential problems and communicate instructions for corrective actions immediately, leading to less miscommunication and faster turnaround of reports to clients.
Also, with a cloud-based SaaS solution, all you need is an internet connection to access data in real-time. This is especially useful for construction materials testing teams working at job sites and remote locations. Engineers and project managers can access data in real time, regardless of their location, using a cloud-based SaaS solution.
A cloud-based solution for CMT and Inspection makes it easier to manage QA and QC process as automation not only reduces transcription errors but also ensures that testing and inspection services are performed in accordance with the required standards and statutory requirements. And, since the software is typically maintained by the SaaS provider, the digital forms are always updated to the latest standards.
Lastly, a cloud-based SaaS software for CMT and inspection helps management team with business analytics. An efficient SaaS solution would have a dashboard that provides easy access to data – this gives the management team the flexibility to customize and get the reports they need for monitoring trends and making decisions.
The above are just some of the ways a cloud-based (SaaS) automated workflow solution can transform CMT and inspection services. A cloud-based software empowers stake holders to manage their QC and QA process efficiently, reduce errors and increase staff productivity – all leading to cost savings and client satisfaction.
eFieldData, a cloud-based construction materials testing software for workflow automation gives you all the above benefits at an affordable price. Request a demo to learn more about eFieldData