Embracing Digital Technology to Mitigate Labor Shortage in the Engineering & Construction Industry
August 17, 2022
Aside from rising construction costs, a major challenge for most engineering and construction (E&C) firms, regardless of size or location, is a shortage of skilled workers. According to Associated Builders and Contractors (ABC), in June 2022, the rate at which the construction workers quit their jobs (2.3%) was higher than layoffs(1.7%), despite the growing concerns of a recession and the cooling job market in the industry. Experts also predict that the recession will be short-lived, as the US Bipartisan Infrastructure Law, passed in November 2021, is expected to invest $550 billion in transportation, broadband, and utilities over the next ten years. McKinsey & Company's modeling projects that this would create 3.2 million new jobs across the nonresidential construction value chain. So, how will the E&C industry keep up with the rising demand for skilled workers, especially when there aren't enough workers to fill these new positions? The answer is to do more with less by harnessing digital technology.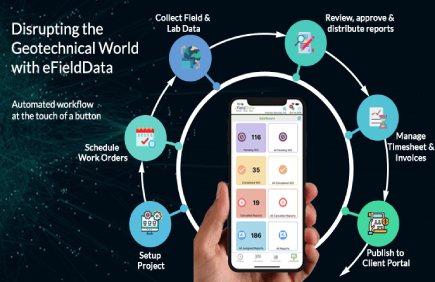 Let's look at how a civil engineering firm that provides construction materials testing (CMT) and inspection services to the construction industry can use digital technology to improve workflow efficiency and increase staff productivity when they use a cloud-based automated workflow solution like eFieldData.
Collaboration between office and field staff
An automated workflow solution facilitates collaboration between office staff and field staff. It's easier to schedule, dispatch tasks and make changes to a schedule when all the project related data is in one place in the system. Furthermore, with an online scheduling system, the right technician can be assigned to the right job based on their skill and previous job location. The ability to include project information such as site address, permit number, client contact person, PDF files of design documents in the work order empowers technicians to complete their jobs efficiently at the field without having to place repeat calls to the office.
Digital Forms
Moving away from paper forms to digital (electronic) forms with options to attach photos and PDF documents from job sites improves accuracy and saves administration time by eliminating duplicate date entry and transcription errors. The field staff would be able to access the digital forms anytime from any job site through a mobile device. This is especially useful when technicians must travel to remote job sites because the data entered is automatically saved every few seconds, even when the network is down, and the data is synchronized when the network is restored. eFieldData's mobile app for field data collection has all the commonly used forms for Construction Materials Testing (CMT) that adhere to ASTM and AASHTO standards.
Review Process and Digital Signatures
With an automated workflow system, test results and related field data would be available for review instantly for engineers/project managers, and reports can be distributed electronically to clients with a digital signature and seal. The entire review process would flow seamlessly and completed quickly, and engineers would have the flexibility to review and send out multiple reports simultaneously. A well-designed system would ensure data integrity by providing an audit trail of any changes made to the reports.
Scalable Cloud Construction Materials Testing (CMT) Software
With a cloud CMT application, the burden of having the application up and running all the time is passed on to the cloud hosting provider. You don't need to hire additional staff to deploy and manage the required hardware and software. And, with a SaaS application, you pay-as-you-go, allowing you to easily scale up or down based on your usage level. Additionally, with a cloud application, you don't have to worry about losing data if your device fails as the data is stored in the cloud, and you can access it from any web browser.
Attracting Millennials and Generation Z
The demographics of the workforce is changing. Baby boomers are retiring from the work forces and the millennials, followed closely behind by generation Z are replacing them. These younger generations were born in the digital era and use smart phones as their primary method of communication. They are tech savvy and prefer to work in technologically advanced companies. Therefore, it's imperative to move away from paper-based system to digital system to attract the younger generation entering the workforce.
Dashboard to Monitor Business Performance
For business owners, a dashboard provides an easy-to-use visual tool to monitor performance by branch/department, individual staff or any other metrics. This is time savings for the owners as they can pull up the reports with accurate and up-to-date information without having to go through various spreadsheets and documents.
E&C companies that automate their daily operations as much as possible are better positioned to mitigate labor shortage to a certain extent as embracing digital technology empowers their workers to be more efficient and productive. In conclusion, embracing digital technology is no longer an option but a necessity for companies to survive in this post-pandemic world that is facing a rising construction cost and acute labor shortage.
eFieldData, a cloud-based construction materials testing software for workflow automation not only gives you all the above benefits at an affordable price. Request a demo to learn more about eFieldData