Key to Success: Why Certifications are Important in Construction Materials Testing
October 12, 2023
Precision and safety are crucial in the evolving world of construction materials testing and inspection. Engineering firms play an important role in ensuring the structural integrity of buildings, roads, and bridges through their quality control (QC) and quality assurance (QA) processes. To achieve this, they must maintain a staff of qualified engineers, technicians, and inspectors. The first step of course is to hire the right people. However, it is also equally important to ensure that they have the tools they need to accomplish their tasks well. This is when certifications are important.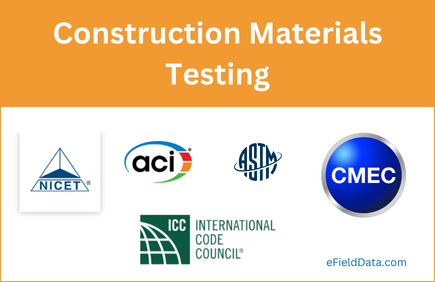 In the construction materials testing (CMT) industry, certifications are the foundation of professionalism and expertise. They demonstrate that a person holds the knowledge, abilities, and competence necessary to do their work in an efficient and safe manner. Keeping track of technicians' qualifications is not simply a good practice for a company that offers cloud-based workflow software to Construction Materials Testing firms; it is a crucial element of success. In this blog, we will look at why it is vital for engineering firms to maintain an efficient certification tracking system in place and cover some common certifications in the CMT industry.
1. Maintaining Safety and Quality
Quality control and risk management are at the heart of the work that is done in the CMT industry. Testing that is inaccurate or using materials that are not up to par can result in structural failures, which can lead to expensive repairs and even accidents that pose a risk to human life. In order to reduce the impact of these dangers, engineering firms need to staff their operations with certified technicians who are equipped with the know-how to precisely carry out tests while adhering to stringent safety regulations.
2. Compliance and Regulations
The construction industry is subject to significant regulations, and these regulations frequently stipulate that specific testing protocols must be carried out by qualified professionals. Non-compliance can result in serious financial penalties, project delays, and legal implications. Therefore, to avoid these problems, engineering firms need to ensure that their technicians continue to hold the appropriate credentials.
3. Client Confidence
Clients in the construction industry want to know that their projects are in good hands with the company they choose to work with. Clients are more likely to have faith and confidence in a company after learning that its technicians have received adequate training and certification. A strong certification tracking system displays an organization's commitment to professionalism and competency, which can be a competitive edge for engineering firms.
Common Certifications for Construction Materials Testing:
1. ASTM (American Society for Testing and Materials) Certification:
ASTM gives credentials relating to specific standards and testing procedures used in the evaluation of building materials. These accreditations guarantee that professionals are knowledgeable about current testing methodologies and industry requirements. Certifications from the ASTM, such as "ASTM Certified Testing Technician" and "ASTM Certified Construction Materials Technician," attest to a candidate's mastery of testing procedures and adherence to ASTM standards.
2. ACI (American Concrete Institute) Certification:
ACI certificates are well-known in the field and include a variety of concrete testing and inspection-related topics. For those working in concrete construction and quality control, these qualifications are essential. They include diplomas for technicians in concrete field testing, strength testing, and aggregate testing, among others.
3. CMEC (Construction Materials Engineering Council) Certification:
In the construction materials testing industry, the certifications that are offered by the CMEC are held in very high esteem. These certifications certify a technician's competency in a variety of disciplines, including construction inspection, testing of asphalt materials, and testing of soils and aggregates. Certifications from CMEC demonstrate a candidate's proficiency in the most important facets of materials testing, such as comprehending the behavior of materials and assuring compliance with both industry standards and project specifications.
4. NICET (National Institute for Certification in Engineering Technologies) Certification:
Materials testing is one of the certifications offered by NICET. These credentials verify the expertise of technicians in disciplines like geotechnical engineering, laboratory testing, and testing of building materials. From Level I to Level IV qualifications, NICET certifications offer a clear route for professionals to enhance their careers.
5. ICC (International Code Council) Certification:
Inspectors working in structural steel and welding, as well as building and residential inspections, absolutely need to have this accreditation. It is essential to comply with all the building rules and standards in order to guarantee the quality and safety of any construction project. There are a variety of certifications offered by the ICC, some of which include Building Inspector, Special Inspector, and Residential Combination Inspector, among others.
6. Nuclear Gauge Safety Certification:
Certification is mandatory for those utilizing nuclear gauges to evaluate soil moisture and density. When working with radioactive materials, it is necessary to comply with all applicable safety standards.
Certifications, whether they come from ACI, NICET, ICC, ASTM, or CMEC, give engineering firms a mechanism to check that its technicians are appropriately trained to carry out their responsibilities. Each certification represents a certain skill set or body of information that is important in construction materials testing.
Utilizing cloud-based workflow software that has been specifically designed for the construction materials testing industry is something that engineering firms may do to efficiently manage these certifications. This type of software makes it simple to keep track certification expiration dates, sending reminders, and other relevant data, which helps to ensure that technicians are constantly up to date.
In conclusion, certifications are more than simply pieces of paper; they demonstrate a commitment to quality, safety, and professionalism in the construction materials testing industry. Engineering firms who place a priority on certification tracking and maintenance exhibit their commitment to excellence, regulatory compliance, and the trust of their clients. These businesses may guarantee that their technicians are well-prepared to handle the ever-evolving demands by employing cloud-based automated workflow software to expedite the process and reduce the amount of manual effort involved.
eFieldData, a cloud-based construction materials testing software for workflow automation provides all the above benefits at an affordable price.
Request a demo to learn more about eFieldData.