Going Digital With Field Data Collection And Reporting
May 03, 2021
Construction Materials Testing is an important civil engineering service as it ensures the viability of a planned building, highway, pavement or any other engineering structure. In other words, the contractor's work is inspected at various stages of construction and placement to verify compliance to the submitted construction plans, specifications and regulatory requirements in terms of safety and quality of the structure being built.
A typical constructions material testing department in an engineering company would handle both field and lab testing.
Field Testing
Field tasks include but are not limited to sampling, field testing, special inspections and observations of soil, asphalt, concrete, masonry, aggregate, rock and timber.
Field tests that comply with industry standards (ASTM, AASHTO, DOT standards) are performed to determine compaction (density), moisture content, air content, temperature and concrete slump among others. And, when needed, field samples of construction materials are also sent to lab for additional testing.
Lab Testing
Lab tests have to be performed in certified labs and some of the common tests include
Soil - Proctors (standard & modified), Bearing Ratios (CBR and LBR), Atterberg Limits, Compressive, Permeability, Grain Size Analysis, pH, Swell
Asphalt – "Rice Test", Extraction, Marshall
Aggregate – Sieve Analysis, Uncompacted Void Content
Concrete – Compression, Flexural Strength, Absorption
Masonry – Compression, Structural, Tensile
Rock
An example of Field Test - In-Place Soil Density Test
Before constructing any engineering structure, one of the major site preparation steps is the compaction of the soil. It provides strength and stability to support the proposed structure. The compaction requirements are determined during the design phase of engineering.
The soil density test is used to determine maximum density and optimum moisture of the compacted soil. As moisture is the bonding agent for soil, the optimum percentage of moisture determines maximum density. Field soil density test is used in conjunction with Lab Proctor tests (Standard Proctor and Modified Proctor): the field test results are compared to the lab test results from the soil sample collected earlier from the same job-site.
Nuclear Density Test and Sand Cone/Sand Replacement Method are two of the commonly used test methods for field density. Both ASTM and AASHTO have set forth guidelines for conducting these test methods. For example, ASTM D6938 and AASHTO T310 describe the procedures for the Nuclear Density Test.
ASTM D6938-17a: Standard Test Methods for In-Place Density and Water Content of Soil and Soil-Aggregate by Nuclear Methods (Shallow Depth)
AASHTO T310: Describes the procedure for determining the in-place density and moisture of soil and soil-aggregate by use of nuclear gauge.
One of the main advantages of Nuclear Density Test is that you can get accurate field density test results quickly with a nuclear gauge. Field density test is basically a quality control (QC) test on whether the contractor is meeting the project specifications set by the design team. Ultimately, reports on field density test need to be sent to the stake holders including project managers, design team and clients as quickly as possible.
So how fast does the client get the density test reports in the real world?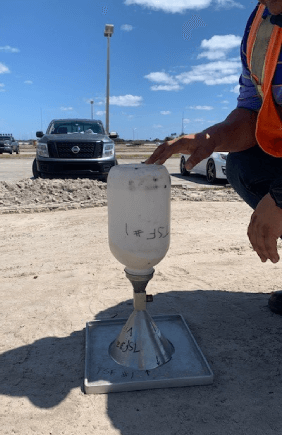 Traditional Method for Reporting
The scheduler would create a work order for field soil density test and look-up the skill level & availability of the certified field technician before assigning the work order. The field technician would come in to the office to pick-up his/her schedule for the day before heading out to the field. The field technician would perform the field density test at the job site, update the test results on the paper form and then drop off the completed form (could be at the end of the day together with the daily report and completed forms for other jobs). An admin staff would then transcribe the data from the form to a word document or spreadsheet and then type out the report for review by engineers. Finally, reports are emailed to the clients.
Reports to clients takes anywhere from a few hours to days
Project Managers do not have access to test results in real-time
Higher chance of date entry errors while transcribing information from hand-written forms to reports
Unable to attach projects details and job site photos
Inefficient - time consuming and labor intensive
Repeat calls to office to get project specifications
Of course, there are several inexpensive solutions in the marketplace that allow you to create customized mobile forms for field data collection, but do they automatically generate reports that could be sent to clients from the field? The chances are that these digital forms would still have to be integrated with your spreadsheets and reporting systems.
Digital Method for Reporting
(An automated workflow solution for Field & Lab Data and Reporting)
With an automated workflow solution designed specifically for construction materials testing (CMT), the entire process from creating work order to collecting field & lab data to reporting is seamless with options to tie-in timesheets and invoicing. The scheduler is able to view who is doing what job, and is able to assign the right technician to the right job. Field technicians are able to receive work orders on their mobile devices and enter test result on digital forms that's populated with project specifications and attached drawings/plans. A good system would prompt you to enter the required field data, auto-calculate values, and attach site images even when the network is down. And, depending on the authority given to the field technicians, they are able to send draft reports directly to the clients as soon as a test is completed at the field. So, reports can be sent to client within hours versus days with the traditional system.
Increased productivity
Reports sent to clients within hours or immediately from the field.
Real-time reporting - collaboration between relevant parties
Quality Control – data entry validation and no more transcription errors
Options to attach projects details and job site photos
Reduced calls to office as project specifications are included in the work order
Easy to schedule and keep track of who is doing what job where
Efficient – complete automated workflow from scheduling, to field and lab data entries to reporting
An automated workflow solution like eFieldData fits the bill for going digital with field data collection and reporting.
eFieldData - a leader in mobile app for field data collection and reporting
eFieldDATA has brought field data management to the forefront of technology with a sleek, user-friendly field data collection app that empowers technicians, inspectors and field engineers to collect data, anytime, anywhere from any device, and share the information with project managers and clients in real-time.
eFieldData's mobile field data collection app is available in both App Store and Google Play, and is part of the complete automated workflow solution for Civil Engineers that includes scheduling, field data collection, lab data management, reporting, timesheets and invoicing.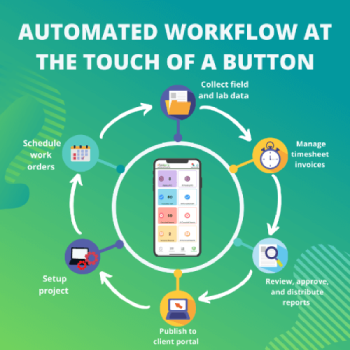 Key Features
Quick turnaround time of professional looking accurate client reports
Supports both Android and iOS
Intuitive and easy to use
Customized forms to meet your unique requirements
Eliminates redundant data entry
Digital forms with preloaded project specifications
Option to attach project plans, drawings and other documents
Field data entry validation parameters to reduce data errors
Mandatory fields to avoid missing data
Data is automatically saved to cloud or on-premise server
Ability to enter data offline even if the network is down
Option to attach field images
Integrates to Lab Management system to keep track of samples
Provides audit trail for sample pick-ups
Receive updates from the field in real time
Send DRAFT reports to clients instantly
Supports digital signatures
References: