2020 GMEC Conference
April 03, 2020
"In light of the current community and global situation, the 2020 GMEC Conference scheduled for April 15-17 is canceled."
We understand, and support the decision made by the organizers to cancel the event in the best interests of everyone considering how widespread COVID-19 is. However, we can't help but feel disappointed as we were looking forward to networking with the engineers, executives and solutions providers in the geotechnical industry during the conference. We wanted to showcase the updated version of eFieldData that includes mobile apps with the ability to add new work orders from the field, create events and view logs.
Let's go down memory lane to GMEC 2019.
eFieldData participated as an exhibitor in GMEC 2019 for the second year in a row at the Renaissance Orlando at SeaWorld from April 4 through April 5, 2019. This exciting event brought together over 500 geotechnical engineers, executives and vendors to learn about the latest trends, discuss new methodologies, industry practices and listen to thought-provoking keynote speakers.
Here's a throwback picture– we're showcasing the mobile version of eFieldData to collect field data on-the-go.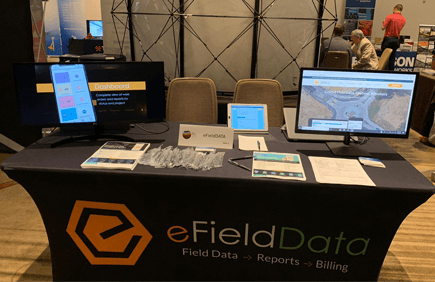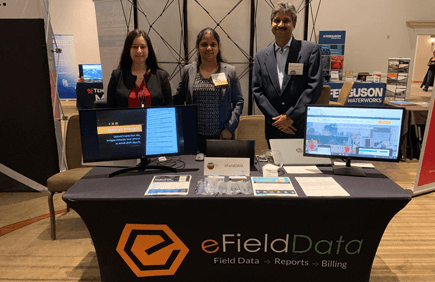 The geotechnical industry, like most other industries, has its unique challenges in moving from paper forms to the digital world to remain competitive. eFieldData introduced an affordable digital solution to automate workflow from scheduling to field data collection to report generation.  It's a web-based and native mobile apps with a modern, intuitive, and easy to use user interface – digital forms on-the-go with just a few clicks, ability to review reports with digital signatures and client portal that enables clients to download project reports at their convenience.
Excited to demo the eFieldData to participants who stopped by at our booth.
We look forward to meeting everyone next year at 2021 GMEC conference (April 14-16) in Daytona. In the meantime, stay safe and healthy.